Compounding
We provide the high touch care you deserve.
Our Compounding Pharmacy
Kubat HealthCare has been dedicated to excellence since 1935.  As one of the oldest and most experienced compounders in Omaha, we extend personal interaction to patients who require customized medications all over the country.  Currently licensed in 24 states, we work with providers to ensure patients get the exact formulations they need, using the most precise equipment and USP-grade chemicals.
To Our Providers
Pharmacy compounding is the art and science of preparing customized medications for patients.  At times you may encounter a patient whose needs cannot be met using traditional medications.  Maybe a dosage form is not commercially available, or the patient may be allergic/sensitive to dyes, preservatives, or additives.  Our main goal is to help you provide solutions to your patients by solving challenging medication needs.
Why choose us?
Quality Assurance
Kubat HealthCare follows USP 795, USP 797, and USP 800 standards for the formulation of all our compounds. We ensure the safety and quality of our compounded products by completing comprehensive tests by registered labs. Patient safety and customer satisfaction are the cornerstones of our business.
Affordability
Our pharmacy has always been competitive with pricing.
Our Proven Process
Once your provider has sent a prescription to our compounding pharmacy, you will receive a call within 24 business hours to go over pricing and shipping options.
Proprietary Formulas
Kubat HealthCare is a member of Professional Compounding Centers of American (PCCA). Through our membership, we have access to over 8,000 proprietary formulas which are pretested and continually reviewed and updated. We also work with providers on specific formulas. If a formula doesn't exist, we can work with the providers to create one specific to the patient.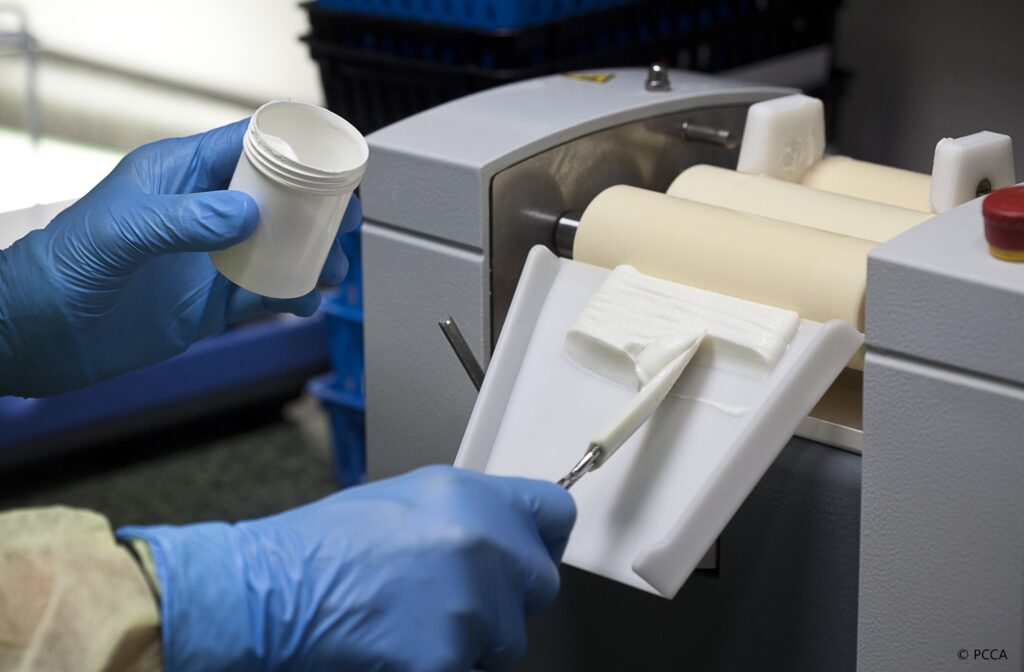 Compounding Services We Provide
Compounding FAQs
What is compounding?
Compounding is the art and science of preparing custom medications. At times, an individual may not be able to use manufactured medications. Maybe a dosage form is not commercially available, or the individual may be allergic/sensitive to dyes, preservatives or additives. Compounders can custom make medications in the best dosage form for the individual.
How long does it take to make a prescription?
As a general policy, we ask customers for 24-48 hours to complete a custom medication. Since the medication is custom made for the individual, each compounded medication has varying preparation times depending on a variety of factors such as:
Dosage form of the medication
Availability of ingredients
Communication needed between the doctor, pharmacist and patient
The time it takes for each medication can be discussed with one of our compounding team members. Some medications can be ready the same day and others may take a day or longer to complete.
Can a customer pick up a compound on the weekend?
The retail pharmacy will be able to get the compounded prescription if the customer was notified that it's ready for pick up. However, our compounding pharmacy is closed and a compounding pharmacist may not be present to answer questions regarding the compounded medication. Since our compounding pharmacy is closed on the weekend, we won't be able to fill any medications over the weekend.
Do you take insurance for compounded products?
Some insurance plans cover compounded medications. You may want to check with your insurance company for your specific coverage. Kubat HealthCare does not bill insurances directly at this time. We can supply the customer with a Universal Insurance Claim Form that you may send to your insurance carrier, If they cover compounds, they will reimburse you directly minus your copay. Please note, we accept all major insurance plans in our retail pharmacy.