Compassionate Care for Your Journey
Welcome to Kubat HealthCare's Mastectomy Services, where compassionate care meets expertise. Meet Colleen Deines, a dedicated specialist with over 25 years of experience, transforming the lives of our patients.
Colleen's journey in healthcare began as a Registered Nurse in 1981. During her nursing career, she honed her skills in patient care and developed an unwavering commitment to making a positive impact on individuals' lives. Her transition to becoming a Mastectomy Fitter in 1994, marked the beginning of a remarkable journey focused on post-mastectomy care.
Understanding the physical and emotional challenges faced by patients after mastectomy, Colleen's mission extends beyond providing essential services. She's driven by a profound desire to uplift patients, helping them regain self-esteem and confidence during a challenging period in their lives.
Colleen's unique background as both a nurse and a certified fitter places her in a league of her own. She not only addresses the physical needs of her patients but also nurtures their emotional well-being, providing a holistic approach to healing.
At Kubat HealthCare, Colleen Deines represents the essence of compassionate, patient-centered care. Her dedication to your well-being and her commitment to making you feel good about yourself is at the heart of our Mastectomy Services. We invite you to experience excellence and support on your journey to recovery.
Colleen Deines can be reached at cdeines@kubathealthcare.com or by calling 402-223-4779, Option 2.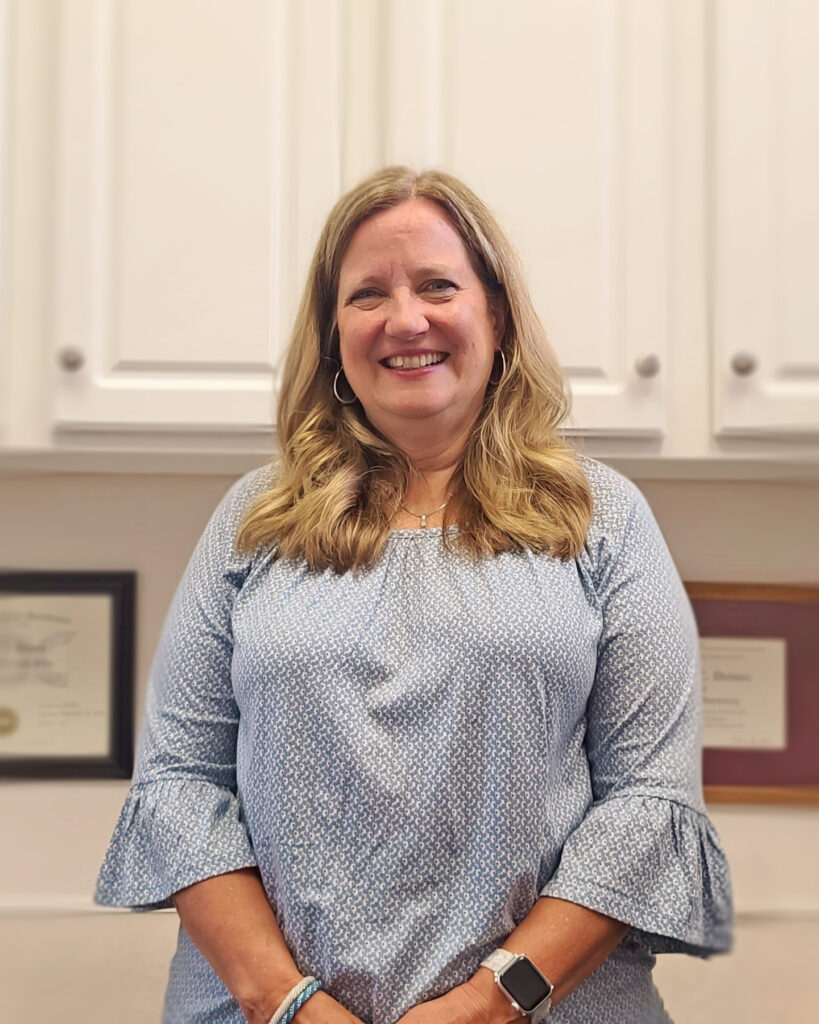 Comprehensive Services for
Post-Mastectomy Care
Colleen Deines offers a range of essential services to help patients regain their sense of self and well-being after mastectomy surgery:
After Surgery Care: Colleen provides personalized post-mastectomy care that caters to the unique needs of each patient. Her expertise ensures a smooth and comfortable recovery process, minimizing discomfort and complications.
Precise Measurement for Bras and Prosthetics: Properly fitted bras and prosthetics are essential for restoring a sense of balance and confidence for mastectomy patients. Colleen's meticulous measurements guarantee a comfortable fit that helps patients feel more like themselves.
Medicare Coverage: Understanding the financial burden that post-mastectomy care can bring, Colleen works with patients to ensure they receive the benefits they are entitled to. Medicare covers up to four bras per year and prosthetics every two years, helping ease the financial stress associated with post-mastectomy care. (Private insurance varies.)
The Importance of Proper Fitting
The proper fitting of post-mastectomy bras and prosthetics is not merely a matter of comfort; it can have a profound impact on a patient's physical health and overall well-being. Without the right fit, patients can experience various issues, including:
Spinal Curvature: An ill-fitted bra or prosthetic can lead to spinal curvature over time, causing discomfort and pain.
Shoulder Drop: Uneven weight distribution can result in shoulder drop, leading to muscle strain and discomfort.
Muscle Contracture and Stretching: Poorly fitted prosthetics can lead to muscle contracture and stretching, causing pain and limited mobility.
Chest Compression: An improperly fitted garment may compress the chest, affecting lung function and exerting pressure on the heart.
Balance Problems: Uneven weight distribution can affect a patient's balance, leading to potential falls and injuries.
Poorly Fitting Clothes: Ill-fitting bras and prosthetics can make it challenging to find clothing that fits well and feels comfortable.
Mastectomy Services is located at: